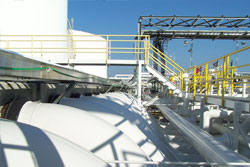 Safety is Paramount
Over time, dramatic improvements have been made in the technology used to manufacture, install, monitor, and maintain these systems. To ensure the safety of our neighbors and the local environment, WesPac:
– Constructs our systems using high tensile strength steel, a strong and durable material. Applies a protective coating to the system's exterior to prevent corrosion. This coating keeps soil and water from touching the steel.
– Installs a corrosion control system along the length of the pipeline at specific locations. This corrosion control system, known as cathodic protection, causes a small electric current (DC) to flow through the soil and water. Testing of pipe with this system is performed on a routine basis to ensure that the pipe is being properly protected.
– Inspects our corrosion protection systems regularly and completes corrosion control survey of the entire system every year to ensure the integrity of the system.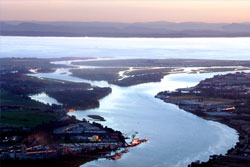 Mitigating Construction Impacts
Street work and construction, no matter how minor the project, have short-term impacts in the local community, especially on traffic. Whenever we enter the project construction phase, WesPac pledges to:
– Complete our work as quickly as possible, ensuring minimal disruption and traffic impacts to our neighbors.
– Work closely with the local community and our traffic experts to design and implement a mitigation plan for each neighborhood.
– Keep our neighbors regularly informed as to the construction schedule and travel options during this time.