TOTE inks agreement for LNG supply for dual fuel duo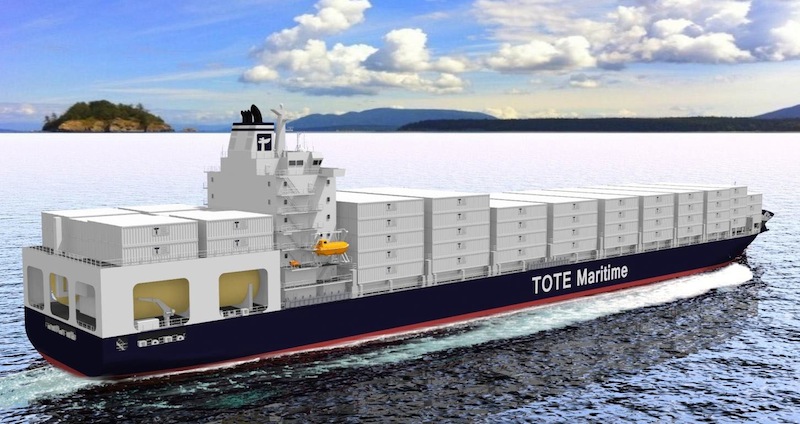 TOTE inks agreement for LNG supply for dual fuel duo
JANUARY 6, 2015 — WesPac Midstream LLC  and Pivotal LNG, Inc. (Pivotal LNG), a wholly owned subsidiary of AGL Resources Inc. (NYSE: GAS) say they have now signed a long-term agreement with TOTE, Inc. to provide liquefied natural gas (LNG) to fuel the two new dual fuel containerships expected to be delivered to TOTE by shipbuilder NASSCO in late 2015 and early 2016.
The agreement follows the signing of a Letter of Intent by the parties in February 2013.
The ships will operate between Jacksonville, FL, and San Juan, Puerto Rico and Pivotal LNG and WesPac are constructing a new natural gas liquefaction facility in Jacksonville.
The land has been purchased, the engineering and permitting process is advancing, and the new Jacksonville LNG facility is expected to be operational in mid-2016.
The Jacksonville site provides the capability to add additional natural gas liquefaction and LNG storage capacity in the future in order to supply other customers in Jacksonville and regional markets.
"With this landmark agreement, WesPac has secured property in Jacksonville for the construction of the first LNG liquefaction facility supplying marine fuel in North America," said Dave Smith, president of WesPac. "Together with our partners Pivotal LNG and TOTE, we've effectively established LNG as the fuel of the future for marine vessels in the U.S. We look forward to the completion of the project and expanding the facility going forward as more markets transition to cleaner-burning LNG fuel."
"This announcement marks the beginning of long-term, sustainable relationships that support the growth of LNG as a clean alternate fuel in and around the Jacksonville area," said Steve Cittadine, president of Pivotal LNG.  "The combination of this new LNG facility in Jacksonville and our existing portfolio of LNG assets positions us well to serve the fueling needs of our current and future customers in the southeast, Puerto Rico, the U.S. Virgin Islands and potentially the broader Caribbean market."
Anthony Chiarello, president and CEO of TOTE commented: "It's an exciting time for TOTE, WesPac, Pivotal LNG and the Puerto Rico trade. The new Marlin class vessels that will enter service in late 2015 are the first LNG powered containerships in the world. This significant investment in the trade, the environment and in Jones Act vessels will create a long-lasting, positive impact in Jacksonville and Puerto Rico."
"Ports and regions that embrace the LNG opportunities before us stand to gain the most in terms of jobs, economic growth and business connectivity with communities around the world," said Brian Taylor, CEO of the Jacksonville Port Authority (JAXPORT). "This important agreement solidifies Northeast Florida's place as a pioneer in the commercial benefits of LNG, thanks to groundbreaking decisions by our long-time port customers, and the innovative spirit of the business and political leadership in our region."