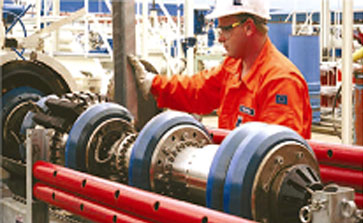 Facilities Integrity
To ensure that all of our pipelines are safe, WesPac utilizes pipeline inspection devices known as "smart pigs" on a regular basis to inspect our lines for possible problems.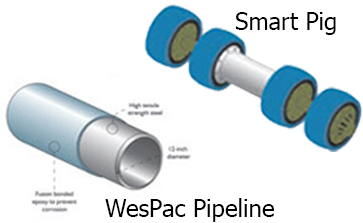 What is a Smart Pig?
"Smart Pigs" are inspection devices that move inside underground energy transport systems to provide information about their internal conditions. What makes it smart? These technologically advanced "pigs" use different technologies to locate problems along the system's pipelines. Magnets are used to detect corrosion and ultrasonic sensors detect breaks in the protective coating, as well as any cracks, dents and gouges. Odometer wheels on these devices measure exactly where the "pig" is as it travels through the system.
Why "pig"? Smart pigs received their name because of the squealing sound they produce as they move from one end of the system to the other, which is reminiscent of real pigs. These "smart pigs" are used to inspect the integrity of our energy transport systems. WesPac's pipelines are inspected with the help of these "smart pigs".